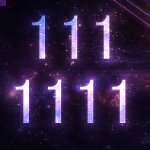 The meaning of numbers repeating in a series such as 111 was placed into the mainstream with the help of "Angel Numbers" by author Doreen Virtue, distributed by mass market publisher, Hay House. Her publication made "interpretation" easier than studying more complex systems in-depth such as Numerology.
In ancient times, the practice of using numbers prophetically included practicing methods of calculation and using ciphers. This is the case for example, with Gematria and Isopsephy. The work involved with the ancient methods of calculation and interpretation of divinatory meanings is complex.
What's New?
I have added a new article to the Resources page discussing the true New Age Ascension meaning of 111 and 1111. Lightworkers have shared about the significance of the numbers over many years to implant the meanings into our consciousness. Within the Lightworker and 5D/New Age Ascension communities, the appearance of the numbers has significant meaning.  To someone who believes in these systems, the number series is dynamic and transcends our plane of existence.
The numbers mean much more than being simple messages from Doreen Virtue's angels. And, the numbers mean something much greater than showing up because of 'synchronicity.'
You can click this link to read about the numbers 111 and 1111 and their true and sacred meanings within the Lighworker spiritual communities.